Outsource the management of your information system
Today, setting up a managed private cloud service can bring a number of advantages to businesses, from SMEs to large corporations.
This enables them to easily store, manage and sharedata and work on business applications using secure external servers, wherever employees may be.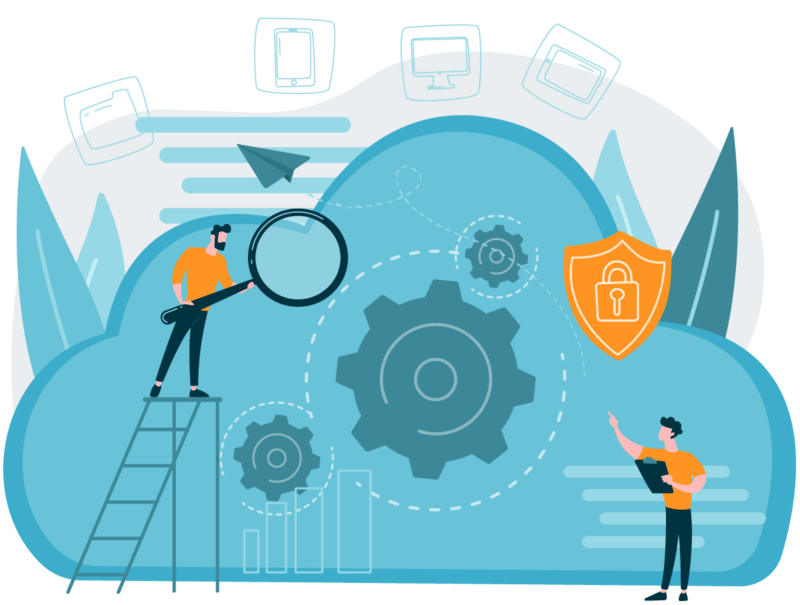 Save time and call in the experts
The implementation of a managed private cloud ensures a secure and flexible environment for businesses. In fact, this solution is now the benchmark in terms of hosting solutions for corporate information systems.
What's more, it offers a higher level of control and supervision, enabling fast and efficient implementation of information system services.
Finally, this solution can adapt to changing business needs, without the need for costly upgrades. For example, organizational changes, recruitment, new sales offers, new business software, etc.
The managed private cloud adapts to your business needs, without you having to bear the burden of maintaining, operating and securing your information system.
This private cloud solution lets you take advantage of the flexibility and scalability of cloud environments, while maintaining the security levels defined by your company.
Why choose the Serenisys managed private cloud?
The managed private cloud enables our SME customers to benefit from a complete IT management solution.
The advantage is that it offers the possibility of using only the IT resources they need (RSE) with the necessary maintenance services .
For example, essential services such as access and data security, as well as technical assistance from the support department.
As a specialist provider of managed private cloud solutions, Serenisys supplies and manages infrastructures tailored to customers ' needs, with 24/7/365 maintenance services.
Visit benefits from managed private cloud in-house :
A complete private cloud infrastructure solution managed by Serenisys' support department, without having to buy and manage servers and the day-to-day running of system and security applications.
More efficient, because companies no longer spend time on routine IT.
Less costly, because the total cost of using the company's IT system is only proportional to its actual use, in terms of both hardware resources and the technical skills needed to ensure that it runs smoothly, securely and reliably.
Benefit from a tailor-made SLA (Service Level Agreement) for technical assistance from our support department
Flexible with a contractual guarantee of reversibility at the end of the contract