Safety:
Serenisys' core commitment
Data security is the cornerstone of all the company's activities. For many years now, data has been stored and managed on digital media that are accessible worldwide via the Internet.
The risk of data loss is very high.
Data may be lost through natural disasters (flood, fire, earthquake, wind), accidents, human error, computer viruses, power failure, theft or if the protection system is not properly configured.
Securing your company's data is essential for :
Avoid data loss and theft

Prevent data corruption

Recover lost data
Secure your company data
To avoid data loss, it's important to ensure that your company's data security is adapted to your needs.
The first thing to do is to check that you have a reliable and resilient operating infrastructure.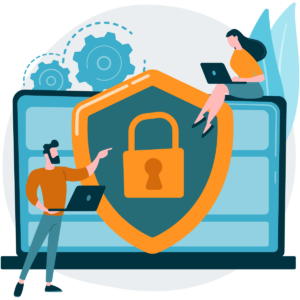 User access: the first step towards security
User access must be configured to access your data, especially when using remote access.
The backup plan ensures safety
The backup plan allows you to recover your data in the event of a problem.
To achieve this, you need to make regular backups, with frequency and retention rules adapted to the needs of your business. These backups must be stored on media hosted in a secure location several kilometers away from where they are managed on a daily basis (operating or production site).
Firewall for enhanced security
The firewall is an Internet access control that protects corporate networks from cyberthreats. The firewall inspects all traffic entering or leaving the server and computer infrastructure , and protects companies against unauthorized access.
This Internet access control must be reinforced in the event of a DDOS attack. In this case, as soon as the attack is detected by the monitoring system, the Support department triggers an intervention by our Internet access provider Zayo. Zayo does everything in its power to restore normal operation of the private cloud as quickly as possible.
A firewall enables employees to access information on their work computer from any device. It can be used to control access to certain web pages or applications, or to create a secure environment for online transactions.
Antivirus software
Its purpose is to detect and prevent the installation of programs that may corrupt or modify computer files.
Antivirus software can be used on all servers and computers likely to load data onto a company's information system. It helps prevent the alteration or even loss of data.
Anti-spam not only filters out commercial spam, phishing e-mails and other e-mail fraud.
The use of this solution on the mail server(s) protects users from threats and viruses.
To meet these two essential security needs, Serenisys offers its customers :
ANSI-compliant software
Automatic software function updates
Monitoring of updates
Secure information exchanges over the Internet
Once all data inputs and outputs have been controlled, the next step is to protect the data exchanged between users. Data may be exchanged outside the company's local network, so we need to make sure it isn't stolen or damaged.
To protect data exchanges over the Internet, you need to set up a VPN service based on an SSL certificate.
SSL Certificates: web browsing security
SSL (secure socket layer) certificates are used to authenticate a server's identity. A Certification Authority (CA) establishes an access key to a server, generates the certificate and signs it with its own private key. This signature guarantees the certificate's validity, prevents it from being falsified and guarantees its authenticity.
A certificate can be applied to a single web server address, or to several addresses based on the company's own domain name.
Domain names
A website's domain name is the address to which the site's users go. Domain name registration enables companies tobe found on the Internet, referenced by search engines such as Google , and recognized by users. A company can thus improve its image and visibility.
The domain name manages the relationship between the name of the web address and the company's server(s). To do this, it manages a certain amount of technical data that also contributes to the security of exchanges between the users of these web addresses and the web servers to which they are attached.
This technical management of domain names is handled by Serenisys.
Its expertise includes
Securing domain names
SSL certificate management
DNS and zone management
Harmonization of domain name and sub-domain management
Secure exchanges
between several company sites
A virtual network
multi-site VPN
This protection of information exchanges must also apply between different sites. Depending on the purpose of the exchanges, the company can set up a multi-site virtual network called VPN, or a network infrastructure for the different sites.
The MPLS VPN solution is the most flexible, enabling rapid response without the need for a company-specific physical infrastructure, since it uses Internet connections with VPN software at each end.
This VPN is used to exchange encrypted information using an SSL certificate, which will encrypt all data between the two connection points of each site or each employee outside the company and its information system infrastructure. VPN is extremely flexible and inexpensive.
A secure private interconnection network
The second solution is to set up a network of private interconnections between the company's various sites to form an MPLS.
Serenisys' technical approach to network infrastructure solutions for a company's various sites makes it possible tounify all uses of all sites, especially those dedicated to user Internet access. A corporate network optimized according to expert know-how acquired with leading telecoms operators.
Quality of Service (QOS) control and management of each connectionoptimizes information flows (data, telephone, videoconferencing, chat, printing, Internet, etc.). Sensitive data can be backed up and distributed across multiple sites in your Serenisys Private Cloud.
MPLS -SDWAN solutions integrate all existing telecom operator networks. This is achieved via the secure high-speed network built and supervised by Serenisys. This enables seamless access withredundant links via different operators and technologies, depending on availability : optical fiber, FTTH, FTTB, SDSL, VDSL, 4G+, 5G.
Serenisys ensures continuity of service for operators by extending its redundant infrastructures to their premises.
Back up your data securely to the private cloud
Serenisys provides backup and service continuity solutions for your information system:
Backup your server infrastructures
Fixed and mobile workstations
Contractual periodic test procedures
Unlimited volumes
Failure to manage this information can have serious consequences for your company. With the development of new technologies, the data and information collected by your company is becoming increasingly sophisticated and sensitive.
What's more, storing this information has become more complex and expensive, so more and more companies are storing it on their own servers, using more secure in-house applications. However, the security of this information is under constant threat.
The Serenisys solution:
Quicksave
Automatic backups on a dedicated platform in a datacenter more than 20 km away from the operating platform
Backup processing is monitored by the Support department 5 days a week.
Possibility of creating archive directories
Parameters defined with the customer:
Storage space for data to be backed up
Backup frequency
Backup type (full or differential)
Retention and archiving
Consequently, companies need to be aware of the risks and potential attacks on their systems and networks. They must ensure that they have adequate and appropriate systems in place to secure the data they hold. The same applies to their back-up management systems, which must guarantee the continuity of this data.
Secure your information systems
Most companies are dependent on the availability of data. So it's imperative that your information systems are not interrupted or have to restart quickly to avoid loss of sales, operations or credibility.
Serenisys has been implementing disaster recovery and business continuity solutions for your information systems since the beginning of its activity.
These solutions, integrated into private cloud offerings, can be adapted to the needs of each customer through specific SLAs:
On-site DRP and/or BCP: single
DRP and/or BCP on external site: dual site
Defining your specific SLA
Contractual periodic test procedures
Virtually unlimited volumes
DRP - Disaster Recovery Plan: Asset-Liability
The periodicity is adapted to the customer's needs, according to his RTO (planned time for resumption of activities) and RPO (data recovery point).
In the event of an incident: restart procedure implemented within 1 hour of detection
In the event of an extreme incident: failover to the backup platform, whether or not using backups, and restart of the backup infrastructure in 1 to 4 hours maximum.
BCP - Business Continuity Plan: Active-Active
Automatic switchover from the operating platform to the backup platform in the event of an incident